Direct Air Supply Stoves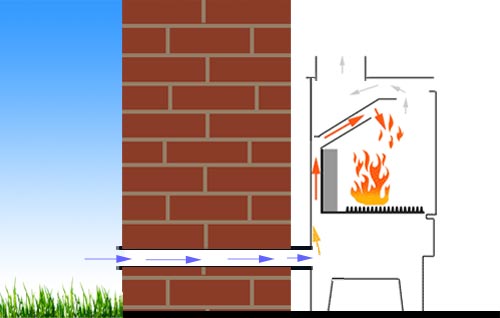 External air, or direct air, as it is also known is a fairly new development in stove technology in Ireland and is becoming increasingly important, especially when you decide to fit a stove in a relatively new house, where the builders have gone to great lengths to ensure that the house is virtually air tight and that very little heat (and therefore air) is allowed to escape. The external air feature will allow the stove's main combustion air to be taken from outside of the building. This makes the stove more efficient and safer because it is not using the warm air it has just created (well, at least not much) or the air that the room's occupants will also need to breath. In a new dwelling an external air supply to the stove ensures that there's an unlimited flow of combustion air which will help with the effectiveness of the flue up-draught thus also helping to avoid the potential escape of dangerous carbon monoxide from the stove as the stove's fire burns down. Therefore, external air should be a prerequisite for any stove planned for a new home.
Here at Cremur we offer only top quality External Air Supply Stoves from top quality brands such as Heta, Mendip, Hergom, Westfire and much more!